I've been using
lingvo.yandex.ru
translation service for several years now for Russian<->English translation, and was quite happy about it. In my opinion, it's one of the best online translation services and provides better quality translations (esp. for phrases) than e.g. Google Translate. The only thing I've been missing is an API so I, as a console geek, could have a cli tool to craft translations. Not so long they've added complete-as-you-type feature. So... firebug, 10 minutes and script is ready: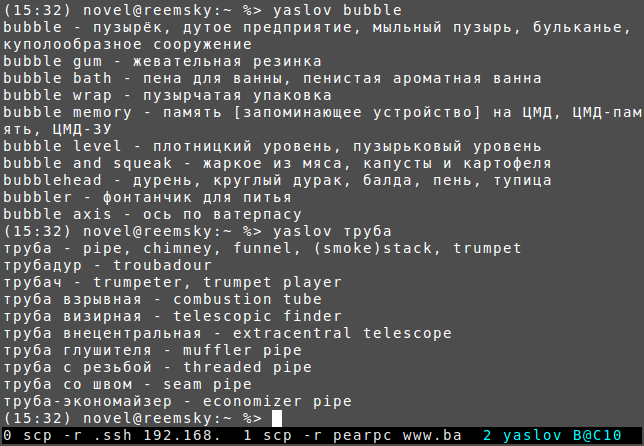 I wouldn't typically post a blog entry about 50-lines Python script, but I've figured out that it became my one of most used CLI tool (not counting basic ones, obviously, like
cd
or
ls
).
To try it just do:
# easy_install yaslov
and start using it! Like:
$ yaslov gnome
.
Thanks to Yandex for a wonderful services and especially for the exposed suggestion script.
PS If you liked that, you might also want to check my similar script for
urbandictionary
:
py-urbandict
.